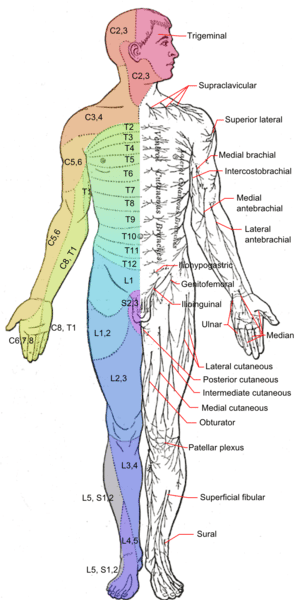 Did you know that a scar on one part of the body can cause pain somewhere else, or organ dysfunction and possibly a subsequent illness? A scar is often the hidden culprit in mystery illnesses or unresolved pain patterns that have not responded to conventional treatments. This subject is not yet widely understood. Consequently the impact of scars on our health goes largely unrecognized. Many people experience significant pain in the scar itself.
Some types of scarring occur beneath the surface of unbroken skin and are thus even more likely to be overlooked.
Trauma and surgery cut through muscles, nerves, lymphatic vessels, connective tissue and acupuncture meridians. Both organ function and the structural integrity of the musculoskeletal system can be significantly compromised.
For example, there is a high incidence of digestive disturbances in women who have had breast surgery. In the Chinese Medical Model, the Stomach Meridian passes directly through the breast. Organ function is directly affected by the disruption caused by a scar that cuts through any part of that organ's corresponding meridian.
Read article The Hidden Effect of Scars on Your Health for more in depth information.
Read more about Scar Therapy for Post Surgical Pain Relief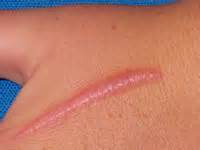 What is Scar Therapy?  Bio-compatible therapeutic micro-current is used to correct de-polarized scar tissue, release constricted connective tissue, relieve pain and restore meridian flow to the affected organ(s). Hard, raised scars will soften and melt. Physical appearance and discoloration of scars can also be reduced and scar sensitivity minimized.
Is Scar Therapy suitable for everyone?
Almost. Scar Therapy is not suitable for pregnant women. If you wear a pacemaker or have a history of epilepsy or grand mal seizures, you will need a letter of permission from your doctor. Everyone else will be fine.
How long does it take?
Session times vary depending on the extent of your scars. About an hour and a half is average. Session time includes treatment and intake/assessment. In many cases, one treatment is sufficient. Sometimes two treatments are necessary. Simple scars will take less time. Complex or multiple scars take longer. If your scars have been causing postural distortions, your therapist may recommend that you follow up with tensegrity matrix bodywork.
Satisfaction guaranteed.
Feel better or pay nothing.
Expect results. 770-465-6294
FEES:
$125 / hour, by the hour, prorated accordingly.
(15 minute increment = $31.50)
One and a half hours - $187.50
One hour and three quarters - $218.75
Two hours - $250
Two and a quarter hours - $281.25
Two and a half hours - $312.50
Payment is due at the time of service. Cash, check and credit cards are accepted; however there is a 3.9% fee to pay by credit card. You will save money to pay by cash or check.
CANCELLATION POLICY:
All clients must read and agree to the cancellation policy before scheduling an appointment.
A platform of mutual respect is required for this work. This means that the therapist's time is just as valuable as the client's money. If you need to cancel or reschedule your appointment, please give a minimum of 24 hours notice from the time of your appointment, sooner if possible. Notice must be given by phone call or text, NOT by email.
If you miss an appointment or cancel with less than 24 hours notice, you are responsible for the full price of your session, based on the average session time for your chosen service.
There is a high demand for this work and there are people on the waiting list who would like your appointment of you cannot keep it. Please be considerate of others by giving as much advanced notice as possible.
NOTE: I will respond to your text message requesting an appointment change or cancellation, so that you know I have received it. As we all know, technology is not perfect and sometimes messages do not go through. I check my messages before and after my work day and again during lunch. If you do not hear back from me within this time frame, please follow up with another text or phone call for the benefit of both of us. Thank you.
COMMUNICATIONS POLICY:
Please note that texting is for appointment confirmation or request to reschedule purposes only. Please do not put session content into a text. Please bring any questions you may have to your appointment. I am not able to address your concerns outside of session time. If you need to consult with me before your next scheduled office visit you may request a phone session. Phone sessions must be prepaid and are the same rate as office visits. Phone sessions are available on Wednesdays only, subject to availability – advanced booking recommended.
Wednesdays are reserved for Skype, Zoom or phone sessions.
I am open Tuesday through Friday from 10:00 am – 6:00 pm.
I am not available outside of business hours.
Thank you for not wearing fragrance of any kind to your appointment. This includes perfume, cologne, hairspray, scented lotion, etc. The facility serves those who suffer from multiple chemical sensitivity. These people are negatively impacted by most fragrances. Thank you for your consideration.
Scar Therapy is performed by a Licensed Healthcare Professional. FL Lic. MA0025111, Nat. Cert. 056216, ABH 9527, MH 10428, ANPA 1010 HOTA 710032488, IASK 1438
Juliet Mathison, Specialized Kinesiologist, trained in Micro-current Scar Release Therapy directly under Dr. Bruce Hocking, developer of the technique. Juliet has over 25 years' experience providing pain relief and rehabilitation from injury, surgery or trauma of any kind.
(770) 465-6294 by appointment only.
Hear what clients have to say about scar therapy.
Office Location for Private Sessions only
Gabriel Center for Wellness
2886 Ringling Blvd
(Goldtree Plaza at corner of Tuttle Ave)
Sarasota, FL 34237
Click on map for directions.
To schedule your appointment call 770-465-6294.